Sun, Dec 9, 2012 | By Hugh Hewitt
Now a message from the land of underdogs and perennial losers: Sometimes you can win.
But you have to play to win, and for the House GOP, that means acting to protect the military from the sequester. The Speaker should emphasize that the president committed during the campaign not to allow the sequester to happen to DoD so that "mandate," which is shared with the GOP's "mandate," should make a stand-alone bill doing just that a symbol of Washington working together for the country's –and the military's– best interests. This is the subject of my Monday Washington Examiner column.
Then there are the Browns, unbelievably, are in the hunt. Sure it is a long shot, but it is possible.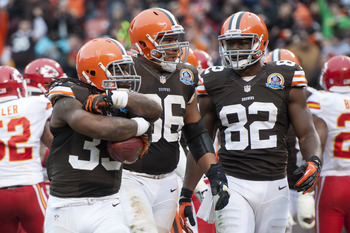 For the latest on the Browns' renaissance, read America's best sportswriter, the Cleveland Plain Dealer's Terry Pluto. The club started 0-5. Sort of like the House GOP after 11/6.
In addition to being the country's finest scribbler of sports stories, Pluto writes the paper's weekend colum on faith, and his terrific pieces are collected into a second volume,
"Faith and You: Volume 2.
" Perfect Christmas present for the believer in your life who likes wonderful writing, especially if combined with Pluto's other recent book,
Things I've Learned From Watching the Browns.