Sat, Apr 30, 2011 | By Hugh Hewitt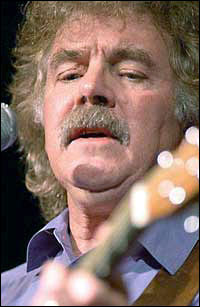 Be sure to read and enjoy Scott Johnson's tribute to Tom Rush over at Powerline, and to listen to the track Scott has embedded there.
Tom Rush was a "guest lecturer" in one of my Humanities classes when I was an undergraduate in 1976, one of the funniest, best and memorable lectures I have ever attended.
But I can't recall the name of the class.
I wish he would bring his act west, but he does have a lot of dates on the calendar which is available at Tom Rush's website. Perhaps he will consent to an interview some time soon.
Like Scott, I am a great fan of the folk singers of the sixties, though of course on matters political we rarely see eye to eye. Long may they play.