Thu, Jul 11, 2013 | By Hugh Hewitt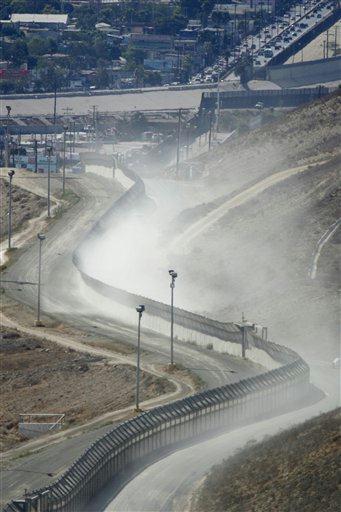 Today's Wall Street Journal carries an op-ed from Congressman Tom Cotton which clearly lays out what ought to be the House of Representatives position going forward on immigration reform: a fence and other key enforcement provisions first, then we can address other issues.  The Harvard lawyer-turned Army Ranger and combat veteran of the Iraq and Afghan war lays it all out in straightforward fashion. Key graphs:
Effective enforcement requires a border fence, a visa-tracking system to catch visa overstayers, and a workable employment-verification system. The Senate bill fails on all three fronts.
The Secure Fence Act of 2006 mandated 700 miles of fencing, but the Senate bill merely restates this long-ignored requirement without mentioning specs or locations. It also doesn't prohibit delay-inducing lawsuits from fence opponents. Further, the bill explicitly lets the secretary of Homeland Security decline to build a fence in a specific location if she decides it's not "appropriate."
Instead, the bill throws billions of dollars at the border for new border-patrol agents (though not until 2017) and sensor technologies. These solutions are complements, not substitutes, for a fence. When I was a soldier in Iraq and Afghanistan, my units relied on guards and technology to secure our bases, but the first line of defense was always a physical perimeter.
That's because fences work. The fence built in the San Diego border sector dramatically reduced border crossings there from 100,000 per year to just 5,000 per year when it was completed in 2006, a 95% drop. Earlier this year, Israel reduced illegal crossings at its Sinai border to two per month from 2,000 per month by completing a fence. Why doesn't the Senate bill mandate an effective fence? The answer, plainly, is that the intention is not to build one.
Similarly, the Senate bill restates a 17-year-old requirement in federal law that the government have a functioning visa-tracking system. But it delays implementation for six years and increases by millions the visas available for low-skill immigrants. This will lead to more illegal immigration by visa overstayers, while depressing wages for young and lower-skill Americans. The bill also delays implementation of the employment-verification system by at least five years and doesn't require mandatory effectiveness levels for the system.
The nonpartisan Congressional Budget Office recognizes that these enforcement measures will be largely ineffective. The CBO estimates that, even with them, annual illegal immigration will decline by only one-third to one-half compared with current projections. After 10 years, the CBO predicts, the illegal-immigrant population will have declined to only eight million from today's 12 million. So much for solving the problem. All we're doing is setting up the next amnesty.
But it's actually worse because even these modest enforcement measures likely won't happen. Any future Congress can defund these programs, as has happened too often. The bill grants enforcement discretion to the bureaucracy in hundreds of instances. Opponents can tie up the bill in court for years, which would block implementation of key enforcement measures but not the path to citizenship. This is exactly what happened with the 1986 law: legalization now and enforcement never.
And what's to stop President Obama from refusing to enforce this law? After all, he just announced he won't enforce ObamaCare's employer mandate because of complaints from big business. If that's his attitude toward his biggest legislative accomplishment, imagine what he'll do when big business complains about, say, an employment-verification system he never wanted to begin with.
 Had the Senate passed an enforcement first/regularization second bill, it might have escaped the cliff it has now gone over.
But it didn't, and it didn't do so despite a hundred warnings from pro-immigration reform conservatives that the key to success from the start was enforcement.  Senate Republicans kept saying "Enforcement yes," and then kept passing no enforcement bills.  The Corker-Hoeven amendment was the last party trick in the enforcement charade.  It was one of the worst drafted amendments in memory and actually increased the president's ability to sidestep the meager enforcement provisions in the original Gang of 8 bill.
Look: Write a bill that mandate an addition 1,000 miles of double layered border-fencing be built within two years. (That would cover about half of the U.S.-Mexican border.)  Appropriate the money to do so, do not exempt "tribal lands," specify specs such as height, double-layering and an access road along its length, and attach "notwithstanding any other law" language so that the Endangered Species Act and the Clean Water Act etc cannot be used to defeat the clear intent of the Congress to get this built.
Add in E-verify per Senator Portman's amendment and Congressman Cotton's visa-tracking system.  Attach Dream Act authority and suspend deportations for other than criminal activity for a period of two years and reconvene in 2015 to see if this most incompetent of Administration has done anything.  Stand for regularization throughout the process, but not regularization first, but only after the border is secured.  (I have a long piece on this in the new edition of the
Regent Law School's Journal of Law and Public Policy, published but not yet online.
)
In other words, stand for principle, for compassion and for security, but don't just stand around doing nothing.  The House GOP never misses an opportunity to miss an opportunity because it seems incapable of reducing ideas to good, clear legislation.  If President bama's Obamacare disaster has left any legacy it is a deep seated suspicion of long, complex, waiver-ridden bills that are not only unread by the people who vote for them but unreadable even by well-informed lawyers and pundits.  So get to the specifics and do so with the sort of page limit that attended the Homestead Act which settled a huge swath of the west in very few pages.
K-Street lobbyists hate clarity and love length and mind-numbing complexity in which to hide their obscure but lucrative "victories."  That's what got us Obamacare.  It ought also to be the target of the GOP in the 2014 cycle, and an attack on a remote, hyper-complex elitist D.C. cannot be mounted at the same time the House GOP can't get a fence built.
So the House wants to hear what its constituents think when it goes home in August?  Then at every turn, tell them: "A fence first, Congressman, a long, strong, double-layered fence, and have you read Tom Cotton's piece?"  That's all you need to say.