Thu, Aug 8, 2013 | By Hugh Hewitt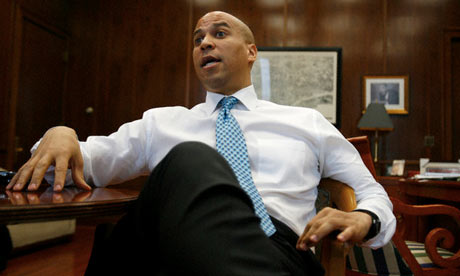 Yesterday's New York Times' story on Cory Booker tried to downplay the significance of the massive transfer of cash from a handful of deep-pocketed liberals in the Silicon Valley directly into Cory Booker's pockets, but don't count on likely GOP nominee Steve Lonegan to play along with the idea that this is just another lucky investor story.
Many more details must emerge in the about "who bought Cory" story, but if New Jersey law is anything like California's Fair Political Practices Act, Mayor Booker had better not taken any votes or actions on any contract that dealt with any of his investors or their companies.
I interviewed the likely New Jersey Senate nominee Steve Lonegan yesterday (transcript here) and Lonegan noted a couple of things:
You know, Hugh, years ago,many years ago, the technique that railroad tycoons and others used to buy senators and congressmen was to give them stock in their companies, and then the stocks would go up, and they'd basically own them. This time, it's over the top. This time, Google and Facebook and these other Silicon Valley moguls have bought this guy by giving him a company, funding a company. He's never lost a night's sleep over losing his investment, because he's made no investment. They've actually handed him a business, which means he is now indebted to them for the rest of his political career. So when he's in the Senate casting votes on issues like the Google collection of our data, and how they're going to use it, you know where he's going to vote every single time. Hugh, I built my own business from scratch. I mortgaged my house more than once in the last 25 years, my wife and I, to invest it and to build a business. I know what it is to have sleepless nights worrying about building a business and creating real jobs. And on top of that, not only did Cory Booker get handed all this money to start a company out of thin air, he didn't even build it in Newark. He opened it up in New York City. That's how much confidence he has in his own city.
That's my emphasis, but if you want to talk about creating jobs in New Jersey, you certainly don't want to have tried –even though you failed– to create jobs inNew York City first.
Then there is the fact of the failure of the venture and the fact of the obvious future conflict of interest.
But the real story is whether Cory Booker voted on or take actions with regards to any of his investors or their companies.  In California, if you have a dime's worth of interest in a company and vote on a matter concerning it, you are asking for investigation and possibly prosecution.  Perhaps rules are more lax in New Jersey, but watch and see if the MSM starts digging if this sort of story was on the table about a front-running GOP nominee.
Some of the hometown papers just woke up to the fact that they got scooped and barely began asking questions today.  Start with the details on the initial investors –who were they, which companies did they own, and what did they put into Waywire, and then follow up with any relevant SEC filing the contracts Newark has on tech and communications issues, and who is handling marketing for various Newark venues likes its much esteemed Performing Arts Center.  Ask this: Did anyone buy any Google ads?  If so, how much?  Reid Hoffman put money into Waywire —according to today's New York Times, though it doesn't tell us how much or if Cory Booker has had any dealings with Paypal. Get the picture?  That's the first set of many, many questions.
There is nothing illegal with a bunch of wealthy friends pouring dough into their pal's start-up.  But they can't have gotten even the appearance of a favor in return, much less the reality of one.
Start with the prospectus for Waywire, reporters, and go from their to any SEC filings while reviewing the Newark contracts of the past many years.  Perhaps it is as innocent as a start-up gone bust, but if it was a GOP nominee, we'd know this already, as well as why the Cory Booker filings were so flawed, and so unexamined.