Wed, May 18, 2011 | By Hugh Hewitt
Today's show is about World War II –a sort of set-up to Memorial Day that is coming.
I will spend the first and third hours with historian Andrew Roberts, whose new one-volume history of World War II, The Storm of War, is magnificent and full of new research and comprehensive analysis as well as terrific writing.
In between hours one and three I will be joined by former California Governor Pete Wilson, now on the board of The National World War II Museum in New Orleans, an extraordinary facility that I visited in March. Pete, as he is called by pretty much everyone in the Golden State, recently returned from an 11 day tour ofthe Pacific battlefields, and is an apostle for the museum and the generation of citizen-soldiers it celebrates. Of course Pete is a Marine so he may tilt just a bit towards the Pacific theater, but not really.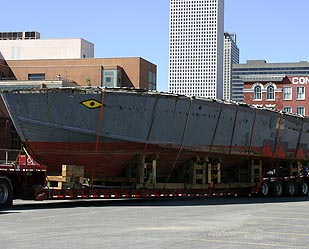 For the benefit of the Steelers fans, the top photo is of a PT Boat and the bottom photograph is of a Sherman Tank, one of the 50,000 built for the war.
If you know a WW 2 veteran, have them listen and perhaps call today.