Tue, Jul 23, 2013 | By Hugh Hewitt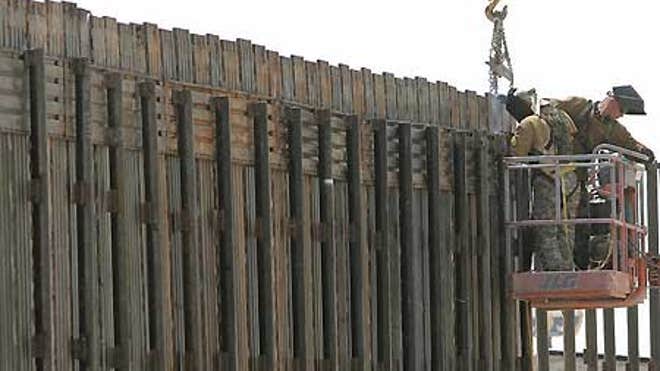 The House Committee on Homeland Security has passed and sent to the floor a terrible bill, H.R. 1417, which is sure to cause revolt among border-security conservatives, even those generally in favor of regularization, an expanded guest worker program, and increased levels of high-tech visa issuance.  The problem with 1417 is that the bill leaves it to the Obama Administration to decide what is needed to (1) control the border, especially with regards to border fencing, (2) implement visa tracking and (3) expand employment verification programs.  The bill is a giant punt at a time when the center-right is opposed to more punting by a House GOP defined in many minds already by its willingness to always punt, even on third down.
Fixing the bill will require inserting a new section that lays out minimum standards for any final border security plan accompanied by a list of immediate actions which should be undertaken immediately in the area of border fence construction –double-layered border fences, accompanied by access roads suitable for Border Patrol vehicle patrols.  The country was promised 700 miles of such fencing in 2006, and has gotten about 50 miles of it, along with a patchwork of single layer fencing and hundreds of miles of laughable "vehicle barriers" which take a few guys with crow bars to move.  To fix 1417, the House needs to amend it to mandate –again– the construction of the fence promised in 2006, and to explicitly require that the double-layered fencing gets built, now.
Putting minimum levels of double-layered border fencing into the bill, along with "notwithstanding any other law" authorization and the funding necessary to get the new double-layered fencing done isn't hard to do, but Homeland Security Committee Chair Mike McCaul is opposed to doing so, even though doing so means a train reck for his party, for the same reason that the Senate bill turned out to be a train wreck.  The Senate bill was understood –as is 1417 as presently drafted– as spitting in the eye of the base of the party which was promised a fence long ago.  We expect Democrats to try and escape past commitments, but not Republicans.
Here's how an amendment could look:
SEC. 6. IMMEDIATE ACTIONS, URGENCY WAIVERS AND MINIMUM REQUIREMENTS OF THE STRATEGY TO ACHIEVE SITUATIONAL AWARENESS AND OPERATIONAL CONTROL OF THE BORDER
 (a) Notwithstanding any other provision of this bill, and notwithstanding any other provision of law, the Secretary of Homeland Security shall immediately upon passage of this law undertake the construction of not less than 650 miles of double-layered, 14 foot high fencing along the U.S. Mexican border at a location of her choosing.  These 650 miles shall be constructed along with an access road suitable for Border Patrol vehicles to patrol, and the two layers of fences shall be separated by at least 30 feet.
(b) Construction of the 650 miles shall be undertaken notwithstanding the requirements of any other law, including the National Environmental Policy Act, the Endangered Species Act and the Clean Water Act, and shall be constructed without regard to whether the land over which it passes is privately held property, state property, or tribal lands.  Claims for compensation for land taken as part of the first phase of fence construction shall be made to the Secretary of the Department of Homeland Security, and copies of such claims provided to the Chairman of the Committee on Homeland Security of the House and Senate.
(c)  The funds necessary to pay for the fence are appropriated by this Act in an amount not to exceed $5 billion dollars.  The Secretary of Homeland Security is authorized by this Act to use any previous contractor who has constructed either pedestrian control or double layered fencing on the border since 2006, and to proceed to final contract with such contractor notwithstanding any other provision of federal contracting law.
(d) The Department of Homeland Security shall cause to have posted on the web a map of the areas designated for the new construction.  The new construction can replace "traffic barriers" but may not replace existing "pedestrian fence," as such pedestrian fence must first be studied for effectiveness before a determination is made whether a second layer of fencing is necessary.
(e) The Strategy To Achieve Situational Awareness and Operational Control of the Border shall also include, at a minimum,
At least an additional  350 miles of either double-layered, 14 foot high fencing with an access road suitable for Border Patrol vehicles to patrol, and the two layers of fences shall be separated by at least 30 feet
A schedule by which the E-Verify program shall be applicable to all employers in the United States not later than December 31, 2014
At least three operational, model programs of visa security and foreign traveler identification at significant ports of entry to the United States and a schedule for the deployment of additional model programs through December of 2016, which number of model programs shall not be less than 20.
The price tag of border fencing has always been hard to pin down. And there are a hundred reports on how the Border patrol doesn't want more fencing –which shouldn't surprise since the Border Patrol wants more Border Patrol agents, not static, effective barriers that reduce the need for numbers of agents.
Lots of articles have been written on the fence –here's the best of them, from Congressional Quarterly's researcher.
What the GOP Conference has to understand is that the fence is about credibility.  The fence was promised.  It wasn't delivered.  UNless and until it is delivered, the GOP looks and sounds like the Democrats, and trust that anything promised will get down remains in pieces.
As I wrote yesterday, this isn't a hard thing to fix.  The House GOP is going to work its way into a corner it cannot escape from, all the while allowing the anti-immigration reform voices and forces to gain amplification, and for the temperature to rise, largely because the Conference won't do simple obvious things.  Such as mandating the fence get built.
As Congressman Cotton said on the show yesterday: E-mail your Congressman.  Make sure you attend any town hall meetings or coffees they offer, and if none are offered, ask for a meeting.  Lay out the demand for a fence.  If the Representative tries to tell you 650 miles have already been built, laugh at them, and inform them that you are not counting the traffic barriers or the "pedestrian fencing."  Tell them "double-layered with an access road."
Don't get fooled again.