Mon, Aug 17, 2009 | By Hugh Hewitt
Just back from five days on the Madison River with some wonderful friends.
The president may have gotten blanked ("Hooking ain't catching" in the language of the river guides), but thanks to Jan Janura, Ken Tada and the fine folks at Beartooth Fly Fishing (especially the ever-patient guides Mike, Todd, Shad and Marty) I managed to "catch" at least one Rainbow a day on my Wednesday through Saturday excursions.
If you ever need a friend on the Madison, call Nancy or Dan and their friends at Beartooth.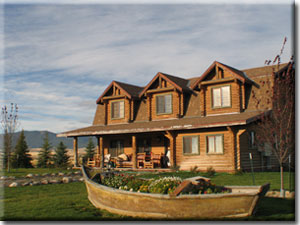 The president's team's attempt to spin his first-ever fly fishing trip is very silly indeed, but as a fellow first-timer on a river with a rod and reel, my sympathies to the First Angler. The weather was nasty, and no matter how many different hoppers the experienced fishermen tried, the blasts of weather kept everyone far away from beginner's luck.
The guides go Navajo code-talker on the novices when it comes to fly fishing, but their extraordinary friendliness make the drift boat floats a great deal of fun even when the lines get tangled, oh, forty times in six hours. Details and fish stories on Monday's broadcast.