Sun, Jun 30, 2013 | By Hugh Hewitt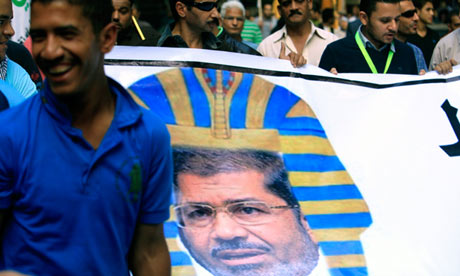 This Jerusalem Post account of the stakes of today's and this week's events in Egypt is very eye-opening.  The New York Times David Kirpatrick (memo to Pulitzer people–this is the guy) will also be filling in the blanks throughout the day and long into the night and the days ahead. As the demonstrators gather against the rule of the Islamists via the Muslim Brotherhood, the stakes are very high for the entire Muslim world and indeed for the whole world generally.  The Islamists really do want theocracy.  They have i in Iran. They are building it in Turkey and they have a foothold in Egypt.
Our country has never been a theocracy nor ruled by a dictator so we are not so alert to what it means to abandon traditions of freedom and representative government for the rule of the one or a few for their own vision of God's demands.  The next few days may be Egypt's turning back from the brink or its thorough embrace of the Brotherhood.  Either way, a momentous few days ahead.
.