Fri, Nov 23, 2012 | By Hugh Hewitt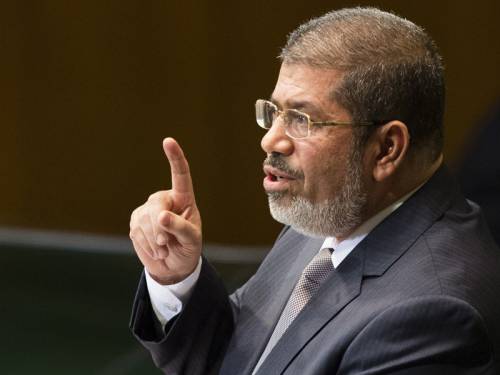 Yesterday's actions by President Morsi of Egypt –seizure of dictatorial powers– should have sent chills down every spine watching the world. That Morsi made his grab after the Israel-Hamas cease-fire may have been an accident of timing, or the shrewdest move possible, cloaking an outrageous act with the halo of peacemaker.
This is the triumph of the Brotherhood, and anyone who wonders what that means should reread (or, incredibly, read for the first time) Lawrence Wright's The Looming Tower.
I don't believe anyone in the Obama Administration has commented on Morsi's decree, even though the people in Egypt understand its implications. Why start now when silence about the slide of the region's keystone country into Islamist rule didn't come up in the presidential campaign and doesn't concern the cheering section that is the White House press corps which, after all, has to ask about global warming?
The obvious irony is that George W. Bush brought democracy to Iraq and Barack Obama is presiding over its extinguishment under Islamist extremism in Egypt, but the situation is too serious to simply score partisan points. Some of the Congressional GOP have to start a sustained focus on what is happening in Egypt and try and raise the pressure on Morsi and his allies before all hope of maintaining a democratic structure is lost.
The New York Times today runs an intriguing profile of Jeb Bush that notes all of his credentials on key domestic issues like education reform and immigration. But whether or not it is Jeb or any of the other people of the GOP's deep bench –Ayotte, Jindal, Ryan or Rubio to name just four– one or more of them have to step up on the Egypt issues and do so soon. The Arab Spring is turning into an Islamist winter, and no one is talking about it. The GOP opposition in Congress has to press the president to press Morsi to relinquish his closing grip on Egypt. t