Wed, Jun 4, 2008 | By Hugh Hewitt
Dear Listeners of the Hugh Hewitt program,
On behalf of the team at Caring For China, I want to thank you all for the huge outpouring of financial support for the relief activities associated with the May 12 eartquake that was centered in Sichuan, China. Indeed, we have received donations from almost all 50 states, and Canada, and Japan, and some even coming through the military mail system. There will be a huge rebuilding in the affected areas sometime in the near future-hopefully, this time with a proper building code. Your help has multiplied our efforts and made them much more effective.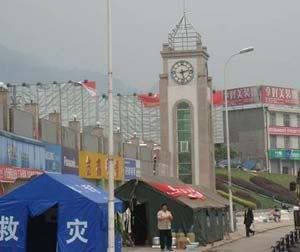 This Clocktower testifies to the time when the earthquake struck in China


First medical team: Dr. May (China) General medical/Dentistry; Dr. Jason (USA) Infectious/Contagious diseases; Laurie Sanders (New Zealand) Admin; Dr. Farhan (Pakistan) Neurosurgeon
Our relief teams were warmly welcomed by residents in Sichuan and by members of other relief organizations like Heart to Heart, Global Doctors, and the Red Cross. In his report, Laurie Sanders (New Zealand-3rd from left above) wrote, "One of our considerations was whether China would accept Western help and we have been astonished, pleased, and thankful that this country has responded with openness and extended a welcoming hand to all who wanted to come and help wih only a few exceptions". When the first medical team (pictured above) arrived after a 26 hour train ride, the taxi driver refused to accept payment-this is unheard of in China! The need for doctors was so great that they were given a Land Rover full of medical supplies and a driver, and directions to a village very near the epicenter. After serving there, they visited other villages and then spent several days with refugees at Mianyang stadium, ministering to the injured and sick.
We have organized several other teams to go to Sichuan for the specific purpose of distributing assistance where needed, and they are all being met with gratitude and friendship. Donated funds are being used to purchase clothing, food, water, blankets, tents, and medical supplies.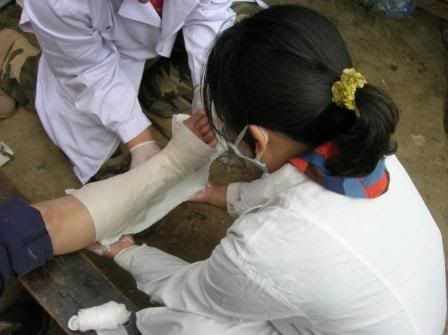 Caring For China has been in China for over 25 years, and I don't think it is an overstatement to say that all our efforts up until now were simply preparation for a time such as this. In the midst of this colossal natural disaster, new relationships are being formed, trust is being built, and friendships are being made that will help rebuild the devastated areas in the future. Thanks again for being such an encouragement to the people of Sichuan and to all of us who are reaching our hands out to help.
Gratefully yours,
Jon Dietz, President