Tue, Feb 1, 2011 | By Hugh Hewitt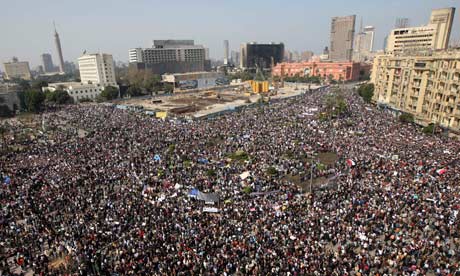 Five news streams worth following today:
The Wall Street Journal,

Commentary Magazine's Contentions blog, especially this post by Pete Wehner on a conversation with Paul Wolfowitz

The enormous crowds will be matched by endless torrents of commentary by folks who don't know the players or the possible outcomes, but who are nevertheless obliged to take their turns in the anchor chairs. Yes the crowds are massive, and Egypt is an ancient country, but what is going to happen if Mubarak decamps, and is it good for Egypt, the U.S. and Israel?
Be sure as well to read the exchanges I had yesterday with Robert Kaplan (transcript here) and Andrew McCarthy (transcript here.)
My conversation with McCarthy occurred just moments after CNN's Fareed Zakaria had been interviewed by Elliot Sptizer on the show no one watches on the network largely seen only in airports. We comment on Fareed's comments about the approach of the Muslim Brotherhood:
HH: Andrew, moments ago, Fareed Zacharia was on with Eliot Spitzer on CNN. I want you to hear what he has to say about the Muslim Brotherhood.

FZ: I think it's not Iran. There does not seem to be a theocracy in the making here. The Brotherhood, even the Muslim Brotherhood, does not have the aspirations of the Iranians to create a kind of Islamic state. And it's not Eastern Europe, because you don't have these societies that are essentially Western liberal societies that have been clamped down on. Look, this is a messy Arab society which will have many, many difficulties. Look at Iraq and Iraq's democracy. I do think, though, it is the center of the Arab world. It is the place that everybody in the Arab world looks to. So what happens in Egypt will have an impact.

ES: You said the Muslim Brotherhood doesn't have the aspirations to create a theocracy. Do they not have the aspirations? Or do they not have the power to do it at this point?

FZ: For the last thirty years or so, the Muslim Brotherhood seems to have moved in the direction of wanting to be a conservative, socially religious organization that wants to institute some greater element of Sharia. Now to understand what that means, a lot of that is social welfare stuff. Some of it is things like the veil. Some of it is court procedures in which unfortunately, women would have fewer voices. But it's not some kind of totalitarian dictatorship. They seem to have accommodated themselves to the idea of democracy, and they have done so for decades now.

HH: Andrew McCarthy, your reaction to that?

AM: I just think that is willfully closing your eyes and your ears to what they say and what they write. I mean, look, the head of the Muslim Brotherhood, just a few months ago, gave a raging speech calling for jihad. I think Mr. Zacharia is paying attention to what the Brotherhood says to their rapt, English audience, and not a whole lot of attention to what they say, either when they think no one's listening to them, or in the Arabic press, which tends to be virulently anti-American and anti-Israeli, and does aspire to the creation of a theocracy. What more do you need to know than that their slogan, their motto remains to this day the same. The Koran is our law, jihad is our way, dying in the way of Allah is our highest aspiration.

HH: I find it almost criminal that a leading intellectual, and Zacharia is very smart and very influential, would dismiss [the Brothers] as "a lot of that is the veil," unfortunate for women that they want Sharia law, and not even mention their hostility to Israel and the Copts, and the kind of oppression that will follow in their wake.

AM: And not only that, the things that they stand for are completely antithetical to any conception of Western democracy, even to the point of the fundamental concede that the governed, the people, have a right to make rules for themselves, irrespective of any religious code. They reject that. They reject freedom of conscience. Apostasy is a capital offense. They reject equality not only between men and women, but between Muslims and non-Muslims. They reject privacy. You know, homosexuality and adultery and a sundry other things are capital offenses. I mean, the laundry list goes on and on. What I think people need to understand is that all this talk about democracy is not about democracy as you and I understand it, which is the Western conception, the Western culture of liberty and freedom. What they're talking about is procedural democracy in order to get their hands on the reins of power through popular elections. And if you don't believe me, have a look at what's gone on in Gaza where the Muslim Brotherhood, Hamas is the Muslim Brotherhood, acceded to power by means of a democratic election. And look what we've got there.

HH: Let's conclude by emphasizing that, Andrew McCarthy. Hamas is the Muslim Brotherhood. The Muslim Brotherhood is Hamas. And I don't think there is an argument for anyone to make that the Egyptian branch is somehow a different party.

AM: No, it's…the American branch is the same party. The Islamist groups in the United States that were shown in the Justice Department's Holy Land Foundation terrorism prosecution to be branches, tentacles of the Muslim Brotherhood, their number one job in the United States was to raise money and support for Hamas. I mean, that's what we're dealing with, Hugh.

.