Tue, Aug 14, 2007 | By Hugh Hewitt
Posted by Duane Patterson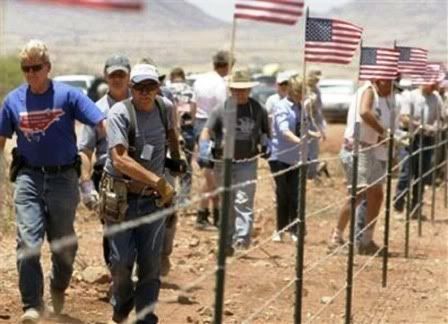 Volunteers, anyone? That's the report from Jerry Seper and Stephen Dinan this morning in the Washington Times.
The U.S. Border Patrol is asking for volunteers among its agents to help build fences on the U.S.-Mexico border, even as President Bush is withdrawing half the National Guard troops he sent there last year to build fences.

A memo circulated last week to Border Patrol sector chiefs said fence-building efforts on the Southwest border were going to fall short of Mr. Bush's goal of finishing 70 miles in fiscal 2007, which ends Sept. 30, "so the Border Patrol is now going back into the fence-building business."
This is precisely why the blowback at the Senate's comprehensive bill a couple of months ago was as high as it was. People simply don't trust the government to keep its word, especially when it comes to enforcing immigration. 700 miles of fencing was passed by Congress and signed by the President at the end of last year. Seven months later, the Kennedy-McCain compromise immigration bill failed largely because it did not have enough border security first enforcement, and it had too many loopholes in national security when it came to granting probationary visas to people coming here from countries of special interest to the State Department.
Once the bill was killed off, the Republicans, especially in the Senate, were left with how to reconnect with their estranged base that felt as if the Senate was trying to ram the legislation through. Arizona Senator Jon Kyl, the chief negotiator for the Republican side when it came to crafting the Ted Kennedy lead balloon of a bill, took an enormous amount of heat from the conservative base by promising that the proposed comprehensive bill would guarantee that 371 miles of fencing would be completed during the first 18 months after signing the bill, on the way to the full 700 miles. In fact, Senator Kyl also claimed that the fencing was currently being constructed, and would continue on that same pace to 371 miles regardless of whether the bill passed or not, as was repeated by Homeland Security Secretary Michael Chertoff and White House Press Secretary Tony Snow.
Now that the bill has no chance of passing, it seems that there's not quite as much of a push to get the fence done at the clip being touted during the debate earlier this summer.
Read more at Radioblogger.com